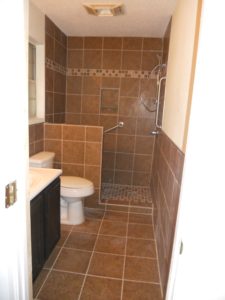 Shower Remodeling
It's time to enjoy your shower again! Or maybe you'd like to convert your tub to a beautiful new shower.  Either way Best Buy Tub & Showers can help with your shower remodeling!
Our showers s begin with a custom onsite manufactured shower developed system.  We also offer Low-barrier showers providing increased flexibility and safety for in-home bathing.
Bathroom Safety
 Does your home need a remodel to protect against bathroom accidents? Not at all! In many homes, a few key products, like a bathroom safety seat for the tub, strategically placed grab bars, non-slip surfaces and a raised toilet seat will do the job. For people who are still mobile, these often add a sense of security and make it easier to attend to the activities of daily living.
Here's what to consider to increase bathroom safety:
Shower  — strategically placed grab bars and non-slip materials will help all household members move about more safely. built-in  seats allow those with limited mobility to enter and exit the shower.  Sturdy seats using and a hand-held shower head permit washing in a safe, comfortable position.
Toilet — ADA approved toilets can be installed for better access and safety.
As well versed parent-giving care construction specialists, we are well versed in all products designed to make caregiving at home as safe and simple as possible.
Call us to examine your individual needs inside and out of the bathroom